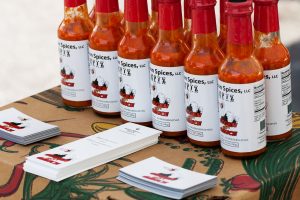 We've been selling Segen Sauce at the Towson Farmers Market for the past 3 weeks and the reception from the Towson community has been tremendous. While we're still waiting to bring the milder Segen Sauce Cae and other spicy goodness we are now getting ready, Segen Sauce has been the only thing we've been selling and we weren't sure what the reception would be. We didn't expect Towson to be a hot sauce-friendly town but it has proven us wrong.
Segen Sauce is spicier than most commercially-sold hot sauces and many people who say they love hot sauce find it too hot for them, so for us to be selling as many bottles as we are selling is an unexpected but pleasant surprise. We are definitely glad to offer a hot sauce presence in Towson.
We look forward to adding more flavors and products to the lineup in the coming weeks and are excited for the future.
The market takes place every Thursday until November on Allegheny Ave. between Washington Ave. and York Rd from 10:45 am to 3:00 pm. We are right in front of Towson Hot Bagel and stop selling at 2:30.