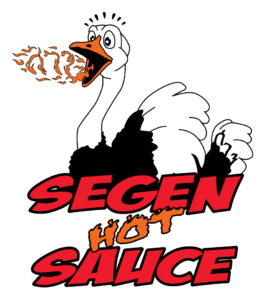 Towson, Maryland –  Baltimore hot sauce lovers can add one more locally-made hot sauce to their list to sample. Towson Spices (towsonspices.com) is the latest in a list of small-batch hot sauce makers in the Baltimore area and it's bringing a lot of heat with its Segen Sauce.
What sets Segen Sauce apart, according to owner Edouard "Eddie" Mutabazi, is that "it's hot and it brings out your food's flavors rather than overwhelm them."
It took 5 years of experimenting for Mr. Mutabazi to find the right balance of ingredients. While most sauces use Xanthan Gum as a thickener, Segen Sauce relies on the balance of its ingredients to thicken and prevent separation.
The ingredients also work as natural preservatives, giving the sauce a 2-3 year shelf life. "The goal was to create a hot sauce people can use without worrying about its effects on their health," Mr. Mutabazi said. That is why the company sticks to fresh ingredients as much as possible, squeezing its own lemon juice, pressing its garlic, and pureeing fresh peppers and tomatoes onsite.
The result is a hot sauce that blends heat and flavor to a fineness sure to be appreciated by hot sauce aficionados, health-conscious or not.
Segen Sauce "Hot," made with habanero peppers, will be available to order online at http://towsonspices.com starting February 1st, while Segen Sauce "Cae," with cayenne peppers, is expected to go on sale by the end of February. Both will be sold at several Baltimore area farmer's markets beginning this spring.